Systematic Review

Open Access
Exercise and the Cortisol Awakening Response: A Systematic Review
Sports Medicine - Open
2017
3:37
Received: 3 May 2017
Accepted: 26 September 2017
Published: 10 October 2017
Abstract
Background
The cortisol awakening response (CAR) has been used as a biomarker of stress response in a multitude of psychological investigations. While a myriad of biochemical responses have been proposed to monitor responses to exercise training, the use of CAR within the exercise and sports sciences is currently limited and is a potentially underutilized variable. Therefore, the purpose of this review was to collate studies that incorporate both exercise and CAR, in an effort to better understand (a) whether CAR is a useful marker for monitoring exercise stress and (b) how CAR may be most appropriately used in future research.
Methods
A systematic review of the literature was conducted, following PRISMA guidelines. Searches were conducted using PubMed, SportDISCUS, Scopus, and PsychInfo databases, using search terms related toCAR and exercise and physical activity.
Results
10,292 articles were identified in the initial search, with 32 studies included in the final analysis. No studies investigated the effects of laboratory-controlled exercise on CAR. Variable effects were observed, possibly due to inconsistencies in study design, methodology, population, and CAR analysis. The available literature suggests a threshold of exercise may be required to alter the HPA axis and affect CAR. Moreover, CAR may represent a combination of previous exercise load and upcoming stress, making current interpretation of field-based observational research challenging.
Conclusions
More research is needed to fully elucidate the influence of exercise on CAR and address a number of gaps in the literature, including controlling exercise load, consistent sample collection, and CAR calculation and analysis.
Keywords
Biomarker
Stress
Athletes
Monitoring
Overtraining
Key Points
There is sufficient evidence for the continued investigation of CAR as a potential biomarker for exercise-related monitoring, both in athletes and the general population.

Currently, the discrepancies observed in the literature make interpretation of the findings and future recommendations difficult.

To confirm CAR as an appropriate biomarker for use in exercise response or overtraining monitoring, it is essential that future studies follow recommended guidelines for utilizing and reporting CAR, as discussed in this review.
Background
Monitoring the physiological responses to exercise is critical for exercise scientists in all facets of the discipline. While numerous physiological responses (e.g., resting heart rate [1, 2], HR variability [3–5], and inflammatory markers [6]) have been investigated for their potential use as a monitoring tool of physical stress in exercise or as indicators of overreaching/overtraining, a single variable capable of acting as an indicator of exercise-induced physical stress has remained elusive. Although the search for a single marker that captures an athlete's stress or recovery continues, the likelihood of such a marker being identified is low. Therefore, many researchers have increased interest in a composite marker of stress that may represent, in a more comprehensive manner, the degree of physical stress experienced by an athlete or exercising individual. Even so, each component of such a composite marker must be individually studied and assessed for potential inclusion in the model.
The hypothalamic-pituitary-adrenal (HPA) axis is principally controlled through corticotropin-releasing hormone (CRH) secretion from the hypothalamus. AVP (arginine vasopressin) may also act synergistically with CRH to stimulate adrenocorticotropin hormone (ACTH) synthesis and secretion from the anterior pituitary. The increased ACTH concentration then activates adrenocorticotropic receptors on the adrenal cortex to stimulate secretion of the steroid hormone cortisol. Circulating cortisol consists of primarily the bound, inactive form of the hormone, while 5–10% is unbound and biologically active and plays a prominent role in a variety of functions, including metabolic, immune responses and psychological effects through binding to cytoplasmic glucocorticoid receptors.
Due to this hormonal cascade, cortisol concentrations are controlled by the secretion and synchrony of CRH and AVP, which, during periods of low stress, are secreted in a pulsatile manner approximately 2–3 times per hour. As the hormonal end product, cortisol acts in a negative feedback manner, suppressing activity at the hippocampus, hypothalamus, and pituitary glands [7]. Cortisol shows strong diurnal variation, peaking following quiescence (i.e., shortly after waking) [8]. This diurnal pattern is controlled by a complex set of interactions initiated by the so-called biological clock in the suprachiasmatic nucleus (SCN) of the hypothalamus. In brief, there exists a self-oscillating transcriptional loop in the nucleus of SCN cells. A circadian locomotor output cycle kaput (CLOCK) and brain-muscle-arnt-like protein 1 (Bmal-1) heterodimer binds to DNA response elements to stimulate the expression of periods and cryptochromes, which phosphorylate and negatively feedback on CLOCK and Bmal-1 to prevent further gene expression [9]—a cycle which takes approximately 24 h [10]. The SCN also incorporates external feedback, such as light exposure via the optic nerves. Although the HPA axis and circadian rhythmicity are intricately linked, a complete review of the interactions between the HPA axis and the master circadian CLOCK systems are well beyond the scope of this exercise and CAR-related review. Interested readers are encouraged to consult several comprehensive reviews available on this topic (see Nadar et al. [10], Nicolaides et al. [9], and Wiley et al. [11]).
During acute stress, a dramatic increase in CRH and AVP pulsatility will ultimately increase circulating cortisol concentrations. Exercise serves as such a stressor, resulting in the aforementioned higher-order brain centers recognizing a threat to homeostasis and responding accordingly. As such, cortisol is a common biomarker that is used in the analysis of exercise responses in both elite athletes and clinical populations. Interestingly, elevations in acute and basal cortisol concentrations in response to stress are believed to be detrimental to health, while elevations in acute and basal cortisol levels in response to chronic exercise are thought to be beneficial. The mechanism related to this exercise-cortisol paradox has been speculated to be partially linked to medial prefrontal cortex dopamine levels and glucocorticoid receptors, but most of this evidence is limited to animal studies (see Chen et al. [12] for review). While it is well known that cortisol concentrations will increase in response to acute exercise, it is important to note that this occurs only when appropriate intensity thresholds have been achieved [13].
The primary function of cortisol secretion in response to exercise is to increase the availability of substrates for metabolism, both during the activity [14] and into recovery [15]. It has been shown that cortisol may then exhibit a "rebound" effect and remain depressed for 24–48 h after exhaustive exercise [16]. This disruption to the HPA axis has implicated cortisol as a potential biomarker for diagnosing overtraining, although this effort has yet to yield consistent findings [17]. Moreover, exercise training may influence acute HPA responses to exercise, decreasing pituitary sensitivity to negative feedback [15] or increasing peripheral tissue-level sensitivity to cortisol [18]. There is also significant research on the role of cortisol in obesity (see Rodriguez et al. [19] for review). Somewhat paradoxically and despite the role of cortisol as a primary lipolytic hormone, elevations in cortisol can result from an elevated body fat content (see McMurray and Hackney [20] for review), thus suggesting that changes in resting cortisol concentrations may be of interest in monitoring effectiveness of exercise and weight loss programs, especially in individuals who are obese.
In addition to the diurnal pattern of cortisol secretion, a distinct rise in cortisol has been observed immediately after waking [21], typically peaking 30–45 min after waking [22], and has been appropriately termed the cortisol awakening response (CAR). This response is a neuroendocrine manifestation of the HPA axis, considered to be superimposed over the regular diurnal cortisol rhythm [23], and has been demonstrated to be sensitive to a host of psychological conditions and stressors. CAR is believed to act as a "boosting" mechanism, to aid in physiologically preparing one for waking somatic tasks [24]. This rationale is primarily due to CAR being present independent of postural condition [22] and use of an alarm clock [25]. While light does appear to affect the response [26], the absence of optical stimuli does not seem to eliminate the response entirely. Thus, the act of waking may be considered to be an event that disrupts homeostasis [10], resulting in increased pulsatile frequency at the hypothalamus and culminating with increased cortisol secretion. The hippocampus has been touted as playing a "central role" in regulating CAR [27], while several other brain regions have been implicated in the fine-tuning of CAR, including the limbic system.
There have been a number of methods developed for assessing CAR that are worth briefly discussing. As is standard in a range of endocrine research areas, especially those that include a specific time series, researchers often calculate the area under the curve of the cortisol awakening response (AUC), typically over 1–4 measures taken after the initial awakening event. This can be calculated using two predominate AUC methods [28]: the AUC can be represented relative to a 0 concentration point (termed AUC relative to the ground [AUCg]) and/or AUC that reflects only the increase in concentration observed (AUCi). Thus, AUCg represents the total hormonal exposure, while AUCi is the total increase in exposure following waking.
Although it is currently unknown whether CAR and AUCg or AUCi reflect dissimilar physiological phenomena, these markers can show disparate responses to the same intervention. In addition to exposure measures, there are several other approaches to examining CAR, including the relative increase in cortisol, calculated as a percent increase above the first sample concentration (CAR%). Researchers may also calculate the mean increase (MnInc) by averaging the increased cortisol concentrations above the first sample concentration, the morning cortisol peak (CMP), or mean morning cortisol (i.e., the mean of serial morning samples in the awakening period; CARμ). Also frequently assessed is the calculated slope of the CAR response, typically between the first sample and peak (CARslope). Lastly, contrast effects (e.g., linear or quadratic) can be used to assess the shape, or change in shape, of CAR. As is often the case when hormones are investigated, there appears to be significant inter-individual variability in both the cortisol profile and CAR in response to physical stress. However, the CAR response within a given individual seems to be consistent [29], as long as confounding variables are properly controlled, such as time of waking, sex, and age (see Clow et al. [30] for detailed review of confounding variables).
Until recently, a vast majority of CAR research has occurred in the psychobiological literature, where CAR has been related to burnout [31], chronic fatigue, and stress [32, 33]; depression [34]; and post-traumatic stress disorder [35]. Although normative ranges have been developed for several populations [36], it is still unclear what may constitute a "healthy" CAR, as both elevated and depressed responses have been related to dysfunctional psychosocial health status [37].
These changes in CAR in relation to psychological stress raises the possibility of CAR also being an appropriate measure to monitor responses to physiological stressors (i.e., exercise). The benefits of a biomarker such as CAR are severalfold. Firstly, measures can be obtained via saliva which is less invasive to obtain as compared to biomarkers obtained from plasma or serum. Secondly, and in contrast to other assessments of overstrain which require an athlete to complete multiple exercise sessions [38], the measures can be obtained at rest, greatly reducing subject burden. Lastly, the multitude of factors that are thought to affect CAR could confer a potential marker of global stress (e.g., allostatic load), which may be more important for monitoring health or potential of burnout or overtraining in athletes. Since the symptomology of the overtraining syndrome includes psychosocial disturbances which accompany the depreciation of physiological factors, CAR may be useful in monitoring both components simultaneously.
Presently, the use of CAR in the exercise science literature has been limited and variable. Therefore, the purpose of this review was to collate the results of studies that have investigated the impact of exercise or physical activity on CAR, in an effort to understand how this biomarker could be better utilized in the exercise and sports science fields.
Methods
A systematic review of the literature was conducted with the collection of articles concluding on November 4, 2016. The PRISMA guidelines for systematic reviews and meta-analyses were followed [
39
], except where not applicable. Searches were completed via the electronic search databases PubMed, SPORTDiscus, PsychINFO, and Scopus to identify publications that included markers of CAR and physical activity, exercise, and/or physical fitness. The search terms utilized were all possible combinations of terms from List 1 and List 2 (Table
1
). In addition, previous review articles and relevant publications were also analyzed for any citations which may meet inclusion criteria. Due to the novelty of CAR within the exercise science literature, no restrictions in the search terms were used, such as date ranges or place of publication; however, only articles written in English were included in analysis. All searches were completed November 4–5, 2016.
List 1

List 2

Cortisol awakening response

AND

Exercise

Cortisol response to awakening

Physical activity

Awakening cortisol response

Sport

CAR

Training

ACR

Competition

CRA

Athlete

Physical inactivity

Physical fitness
The first screening of the articles excluded studies based on the relevance of the title of the publication, the second screening excluded studies based on a reading of the abstract, and the third screening excluded studies based on a reading of the full text. To be eligible for inclusion, studies needed to be primary, peer-reviewed research. In addition, studies must have had at least one marker of CAR and an objective measure of physical activity, exercise, or physical fitness. In the event that data was not available in the manuscript, efforts were made to contact the corresponding author to acquire the necessary data. Inclusion in the study was not limited by study design, length of intervention, or CAR methodology.
This review had two primary aims: (1) to summarize the current state of CAR in regards to exercise and physical activity and its potential use as an exercise-related biomarker and (2) to provide recommendations to researchers for future exercise and CAR studies. It is important to note that the authors originally intended this review to result in a meta-analysis of alterations in CAR in response to both acute and prolonged exercise protocols. However, due to the limited number of studies, disparate protocols, and outcome variables; range of populations studied; and variable statistical analyses used, it was determined that attempts to summarize the findings in these studies would not result in any further clarification of the influence of exercise on CAR. Therefore, no aggregated data were used in any statistical analyses, nor were any inter-study composite measures reported in the present study.
Results
A total of 10,292 articles were identified in the initial search. Following the subsequent screenings, 32 articles were included in the review (Fig.
1
).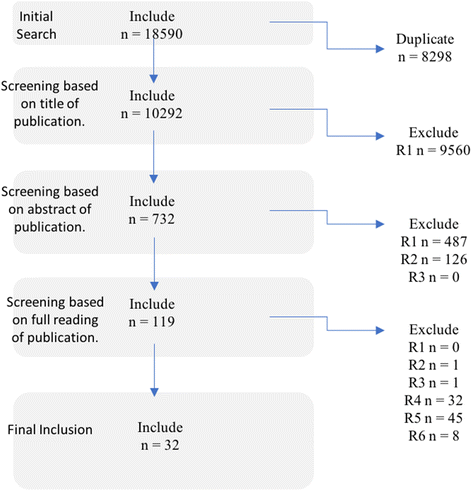 Of the articles included, 11 articles concerned athletic populations, and a single article addressed a military population. The remaining studies included a variety of populations, including psychiatric illness (n = 3), children and adolescents (n = 5), older adults (n = 6), and obese populations (n = 2).
Articles included in this analysis showed four distinct types of exercise and physical activity measures: (a) responses to exercise intervention ≥ 1 week (Table
2
,
n
= 13); (b) response to a single exercise bout (Table
3
,
n
= 2); (c) relationships to physical activity (Table
4
,
n
= 12); and (d) response to upcoming exercise stress (Table
5
,
n
= 5).
Discussion
The aims of this systematic review were to firstly summarize the alterations in CAR in response to exercise and determine whether there was sufficient support for its use as an exercise-related biomarker and secondly to provide future recommendations, where warranted, for improving CAR research. We acknowledge that many of the studies included in this review include confounding variables that may influence the cortisol response above and beyond exercise alone (i.e., hypoxia due to altitude or psychological stress). However, had we limited our review to studies that investigated only the influence of exercise on alterations in CAR without any confounding variables, the number of studies included in the systematic review would have been zero. The original intent of this review was to conduct a meta-analysis and establish potential effect sizes across exercise contexts. However, as has been discussed, there are significant variations in research methodology, data reduction, populations, and statistics. Therefore, any meta-analyses presented would be inconclusive, if not entirely erroneous. As such, we aim to discuss the current state of CAR in exercise research and provide recommendations for augmenting our current knowledge of this biomarker.
From the findings presented above, it is reasonable to suggest that a threshold of exercise must be surpassed to illicit and measure a response in the CAR. Although available evidence suggests this may be intensity-dependent, future research should confirm this. The necessity of an exercise intensity threshold is not unheard of in the exercise endocrinology literature, especially in reference to cortisol [13]. The lack of change in CAR in those studies focused on low-intensity exercise or workplace stress, therefore, may in fact represent a sub-threshold effect. If true, the lack of sensitivity to low-impact exercise may be considered a potential strength of CAR, especially when considering the utility of CAR to monitor exercise training stress and thereby modulate training intensity. For example, during periods of regular exercise training, CAR may present very little variability, but overload periods of increased intensity or volume may impair the CAR, thus acting as an early predictor of overtraining.
Studies that included CAR as a physiological marker of readiness on the morning of a competition showed a degree of consistency in CAR predicting performance outcomes, leading to the suggestion that CAR potentially acts as an indicator of the psychological status of the athlete. This more positive affective state then presumably leads to improved athletic performances. However, it is also possible that the observed CAR was a function of, or affected by, the preceding chronic training load undertaken by the athletes. That is, athletes with a greater chronic training load also had more favorable physical adaptations that lead to improved performances, and that greater training load was also reflected in the CAR. Being unable to distinguish this point, there is a clear need for laboratory-controlled exercise programs that also monitor CAR.
Many studies in the present review were excluded due to their lack of a CAR measure. Of these, a significant number stated that awakening responses were collected; however, these measures were either not reported (i.e., only included concentration values at individual time points) or were reported as a composition score of "diurnal cortisol," which included a number of cortisol measures outside of the waking period. Although there are certainly uses for monitoring the entire diurnal period, it is recommended that the awakening-period cortisol be analyzed as a separate variable, as described below, in addition to the diurnal rhythm. This small addition to the calculations and analysis may lead to relationships or changes that have been otherwise unidentified.
Future Directions
A clear issue in the literature is related to the most appropriate way to present CAR variables. It is evident that CAR and AUC measures may both be valuable for evaluating responses to exercise, yet it remains unclear whether AUCi or AUCg should be more consistently used. Even more concerning is the lack of agreement in the number or timing of sample collections. While most studies include samples immediately after waking and a second sample after 30 min, the variability in studies including a third, fourth, or fifth measure, or researchers that prefer a 20- and 40-min capture period, leads to difficulties in assessing overall effect sizes. After reviewing the literature, we suggest sampling at least every 15 min following an initial waking sample, for at least 1 h after waking. This allows for the following: (1) an increased confidence in capturing the peak change; (2) an increased resolution in the shape of the response; (3) more meaningful statements in regards to total cortisol exposure (i.e., area under the curve); (4) more sophisticated statistical analyses to be completed, such as non-linear metrics; and (5) the potential to elucidate intra-individual variability in the measure across the course of an exercise training or intervention period. Of particular importance, a recent study by Smyth et al. [80] suggests there is a non-linear rise over the initial waking period, which is subsequently followed by a more linear increase, again emphasizing the need for frequent sampling.
Moreover, we recommend the reporting of at least: CAR, CAR%, AUCg, and AUCi, and contrast analysis. These variables allow for analysis of both the relative and absolute increases and exposure observed, as well as general shapes of the CAR curve. Since research on CAR within the exercise literature is still in its infancy, the reporting of these variables, even if not significant will (1) more fully explain the response to the intervention and (2) allow researchers to more efficiently focus on CAR variables which may be most relevant moving forward.
Field-based and observational studies are undoubtedly important for establishing the effect of exercise and CAR in real-world scenarios and outlining potential uses for this biomarker, although there is currently a lack of control over the exercise interventions, as well as potential confounding factors in the literature. As such, although CAR has routinely been obtained via saliva samples produced in the subject's regular sleeping environment, researchers should also consider conducting studies in which subjects use sleep-in facilities so that saliva collection procedures could be more closely monitored for adherence. Although self-reports of wake-time, or activity and sleep monitors may provide evidence of waking, they do not denote the actual timing of saliva samples post-waking. As demonstrated above, the cubic or quadratic contrasts are highly time-dependent, and short delays in sampling have been shown to impact CAR [81].The use of a sleep-in laboratory facility may also allow for serum collection in conjunction with salivary measures. Previous research on salivary and serum cortisol markers have shown consistent reliability, with correlation coefficients ranging from r = 0.71 to 0.96 [82], depending on the population being analyzed. It is important to recognize the salivary cortisol represents only the free concentration of the hormone, and the increased activity of 11β-hydroxysteroid [83] in saliva leads to lower cortisol levels in saliva. Due to this, as well as the potential delays in free cortisol excretion through salivary glands, serum monitoring may prove to provide a more complete picture of cortisol responses during awakening. Moreover, cortisol concentrations prior to the conscious awakening point may elucidate further physiological mechanisms underlying CAR, which would be ostensibly achievable only through IV catheterization.
There are occasional references in the literature to the possibility of responders and non-responders in regards to CAR [36, 84]. It is the opinion of the authors that the lack of an increase in cortisol following awakening or the decrease in cortisol with wakening should not be excluded from analysis on the basis of being a "non-responder." This variability in the response is critical to further understanding its nature. In the event of individual responses that do not follow the expected cortisol rise, these subjects should instead be identified and individually discussed and perhaps included in a secondary post hoc analysis.
As discussed elsewhere [45], CAR should be analyzed in regards to other possible awakening responses. These may include either the alpha-amylase or dihydroepiandrosterone awakening responses, as well as other inter-dependent physiological systems such as heart rate variability. It is likely that the relationships between these markers, as opposed to any individual biomarker, will permit more complete information regarding the response to exercise. In addition to relating CAR with other biomarkers, one should also be cognizant of the relationships that the CAR has already demonstrated with subjective markers of stress and recovery. Specifically within the exercise sciences, CAR has been studied in reference to the Profile of Mood States [77, 85], Visual Analogue Scale to Measure Fatigue [49], and an adapted Academic Resilience Scale [78]. Given the clear link between psychological stress and hypothalamic function, the inclusion of these questionnaire-based measures and monitoring of the affective state of the athlete in response to exercise training is necessary.
Conclusions
The use of CAR in the current exercise and physical activity literature is sporadic and inconsistent. However, from the limited evidence presented, CAR appears to be a viable biomarker to monitor both exercise training responses and health-related outcomes. In particular, it appears that CAR may be influenced by an intensity threshold, since changes in CAR seem to occur in higher load interventions or those subjects which presumably have a reduced training tolerance. Moreover, CAR appears to represent physical activity in some populations and may be useful in monitoring physiology in large scale physical activity observational research. Future research should focus on addressing the methodological inconsistencies discussed above, establishing a potential exercise threshold required to illicit an acute response and determining the extent to which CAR represents past physiological disruption and upcoming exercise stress.
Abbreviations
+xh:

Cortisol concentration x hours after waking
0 h:

Cortisol concentration immediately after waking
AUCg :

The area under the curve relative to a 0 cortisol concentration
AUCi :

The area under the curve relative to the increase in cortisol, typically immediately after waking
AVP:

Arginine vasopressin
CAR:

The absolute increase in cortisol from immediately after waking to peak
CAR% :

The relative increase in cortisol from immediately after waking to peak
CARμ :

The mean increase in cortisol, typically taken as an average of two measures following the initial measure
CMP:

The peak cortisol concentration following awakening
CRH:

Corticotropin-releasing hormone
MnInc:

The average cortisol concentration greater than the initial value (MnInc = ((s2 + s3)/2) − s1)
SCN:

Suprachiasmatic nucleus
Declarations
Acknowledgements
The authors would like to thank Dr. Jennifer L. Etnier for her guidance and assistance throughout this process.
Funding
This project was not funded.
Availability of Data and Materials
Not applicable.
Authors' Contributions
Authors TA and LW were responsible for authorship of this manuscript and article review and were required to reach consensus in the event of disagreement on article inclusion. TA conducted all database searches and completed all data extraction and production of summary tables, where necessary. Both authors read and approved the final manuscript.
Ethics Approval and Consent to Participate
Not applicable
Consent for Publication
Authors Travis Anderson and Laurie Wideman both grant permission for publication of this manuscript.
Competing Interests
Authors Travis Anderson and Laurie Wideman have no competing interests to declare.
Publisher's Note
Springer Nature remains neutral with regard to jurisdictional claims in published maps and institutional affiliations.
Open AccessThis article is distributed under the terms of the Creative Commons Attribution 4.0 International License (http://creativecommons.org/licenses/by/4.0/), which permits unrestricted use, distribution, and reproduction in any medium, provided you give appropriate credit to the original author(s) and the source, provide a link to the Creative Commons license, and indicate if changes were made.
Authors' Affiliations
(1)
University of North Carolina at Greensboro, Greensboro, USA