Review Article
Open Access
Measurement of Physical Activity and Energy Expenditure in Wheelchair Users: Methods, Considerations and Future Directions
Sports Medicine - Open
2017
3:10
Received: 20 October 2016
Accepted: 22 February 2017
Published: 1 March 2017
Abstract
Accurately measuring physical activity and energy expenditure in persons with chronic physical disabilities who use wheelchairs is a considerable and ongoing challenge. Quantifying various free-living lifestyle behaviours in this group is at present restricted by our understanding of appropriate measurement tools and analytical techniques. This review provides a detailed evaluation of the currently available measurement tools used to predict physical activity and energy expenditure in persons who use wheelchairs. It also outlines numerous considerations specific to this population and suggests suitable future directions for the field. Of the existing three self-report methods utilised in this population, the 3-day Physical Activity Recall Assessment for People with Spinal Cord Injury (PARA-SCI) telephone interview demonstrates the best reliability and validity. However, the complexity of interview administration and potential for recall bias are notable limitations. Objective measurement tools, which overcome such considerations, have been validated using controlled laboratory protocols. These have consistently demonstrated the arm or wrist as the most suitable anatomical location to wear accelerometers. Yet, more complex data analysis methodologies may be necessary to further improve energy expenditure prediction for more intricate movements or behaviours. Multi-sensor devices that incorporate physiological signals and acceleration have recently been adapted for persons who use wheelchairs. Population specific algorithms offer considerable improvements in energy expenditure prediction accuracy. This review highlights the progress in the field and aims to encourage the wider scientific community to develop innovative solutions to accurately quantify physical activity in this population.
Keywords
Physical ActivitySpinal Cord InjuryRest Metabolic RateWheelchair UserPhysical Activity Energy Expenditure
Key Points
Predicting energy expenditure from physical activity is inherently more challenging in persons with chronic physical disabilities who use wheelchairs due to altered movement patterns and variations in metabolically active muscle mass.

Recent studies have successfully attempted to utilise technological advancements (i.e. multi-sensor devices) to measure physical activity and predict energy expenditure (using population or activity-specific algorithms) in persons who use wheelchairs.

Combining measurement methods (both self-report and objective) might provide greater contextual information about the types and purpose of activities being performed by persons who use wheelchairs. This has implications to inform the wider public health agenda by promoting physical activity and reducing non-communicable diseases in persons with chronic physical disabilities.
Conclusions
There is now a renewed impetus to translate progress in measuring PA in adults without disabilities to persons who use wheelchairs, with the techniques reviewed here (i.e. self-report, physiological signals, accelerometry and multi-sensor devices), displaying varying degrees of success. Currently, selecting a PA assessment tool to use in this population presents a challenging proposition for clinicians and researchers alike due to differing outcome variables of interest, practicality/usability of the tool and population specific considerations. To help guide decision-making, Fig.
1
was developed to provide a systematic evaluation of the strengths and limitations of the different measurement tools reported herein. The PARA-SCI has been extensively developed and is the most suitable self-report measure to predict time spent performing various intensity activities. This methodology also captures the type of activities being performed, categorised as either LTPA or activities of daily living, which provide useful behavioural information. Tri-axial accelerometers worn on the wrist or arm are well tolerated and relatively unobtrusive [
108
]. They offer a promising alternative to self-report methods for predicting PA/EE, particularly when combined with devices attached to the wheelchair or by incorporating complex data analysis methodologies. Multi-sensor devices, with algorithms developed specifically for the individual or generally for persons who use wheelchairs, demonstrate considerably improved error in the prediction of PA/EE during controlled laboratory protocols. It is possible that due to altered movement patterns and variations in metabolically active mass, predicting PA/EE in persons that use wheelchairs might be intrinsically more challenging. However, building on the current progress outlined in this review, we encourage the scientific community to rise to the challenge and provide innovative solutions to accurately predict free-living PA behaviours in this population. This is particularly important given the greater risk of non-communicable diseases, which are often associated with reduced activity, in persons with chronic physical disabilities who use wheelchairs.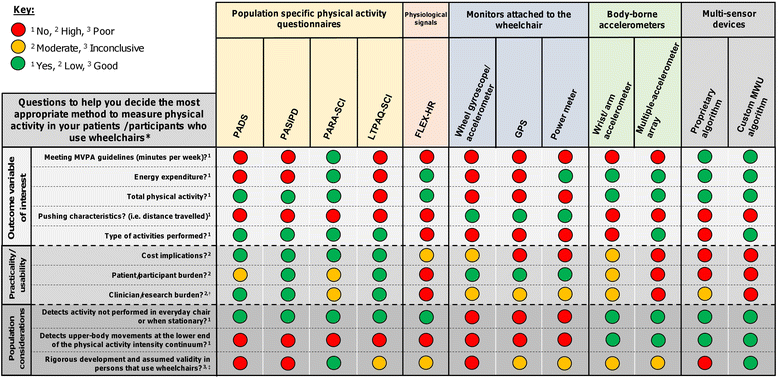 Declarations
Acknowledgements
The authors would like to thank Roger and Susan Whorrod, and the Medlock Charitable Trust for their kind donations to the DisAbility Sport and Health (DASH) research group at the University of Bath. The authors would like to acknowledge Dr Andrew Siddall for his review.
Funding
No financial support was received for the conduct of this study or preparation of this manuscript.
Authors' Contributions
TEN conceived the review, which was revised with input from PCR, DT and JLJB. TEN conducted the literature review and drafted the manuscript with PCR also contributing to the manuscript preparation. The manuscript was critically revised for important intellectual content by DT and JLJB. All authors approved the final manuscript.
Competing Interests
Tom Nightingale (TEN), Peter Rouse (PCR), Dylan Thompson (DT) and James Bilzon (JLJB) declare that they have no conflict of interest.
Open AccessThis article is distributed under the terms of the Creative Commons Attribution 4.0 International License (http://creativecommons.org/licenses/by/4.0/), which permits unrestricted use, distribution, and reproduction in any medium, provided you give appropriate credit to the original author(s) and the source, provide a link to the Creative Commons license, and indicate if changes were made.
Authors' Affiliations
(1)
Department for Health, University of Bath, Bath, UK