Correction to: Occurrence, Risk Factors, Prognosis and Prevention of Swimming-Induced Pulmonary Oedema: a Systematic Review
Sports Medicine - Open volume 5, Article number: 12 (2019)
Correction to: Sports Med Open
https://doi.org/10.1186/s40798-018-0158-8
The original article [1] contained a minor error in Fig. 1. The corrected figure is shown below.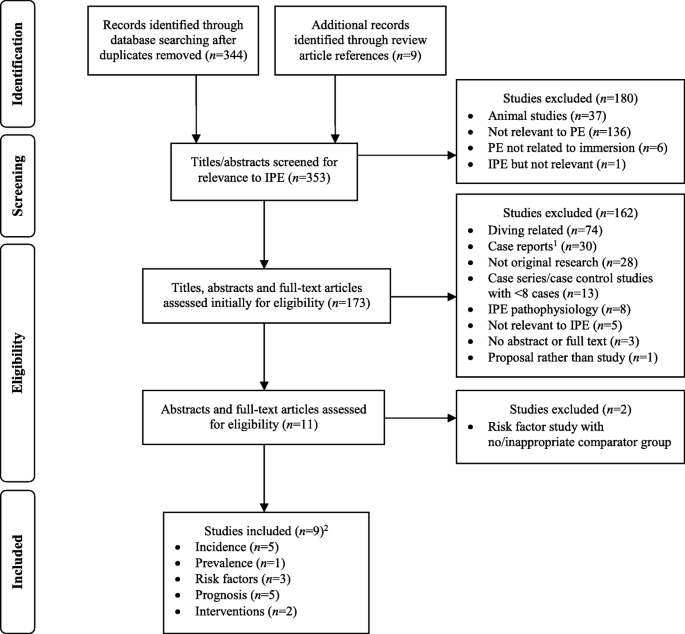 Reference
Spencer S, Dickinson J, Forbes L. Occurrence, Risk Factors, Prognosis and Prevention of Swimming-Induced Pulmonary Oedema: a Systematic Review. Sports Med Open. 2018;4:43 https://doi.org/10.1186/s40798-018-0158-8.
Rights and permissions
Open Access This article is distributed under the terms of the Creative Commons Attribution 4.0 International License (http://creativecommons.org/licenses/by/4.0/), which permits unrestricted use, distribution, and reproduction in any medium, provided you give appropriate credit to the original author(s) and the source, provide a link to the Creative Commons license, and indicate if changes were made.
About this article
Cite this article
Spencer, S., Dickinson, J. & Forbes, L. Correction to: Occurrence, Risk Factors, Prognosis and Prevention of Swimming-Induced Pulmonary Oedema: a Systematic Review. Sports Med - Open 5, 12 (2019). https://doi.org/10.1186/s40798-019-0184-1
Received:

Accepted:

Published:

DOI: https://doi.org/10.1186/s40798-019-0184-1